Who We Are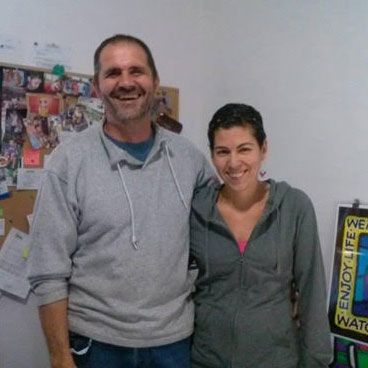 Hello, and welcome to Londono Art Studio, a one hundred percent flexible husband and wife team dedicated to creating custom designs as well as our own line of eclectic colorful wall art. All of our products are individually designed and handcrafted in our shop in Tarpon Springs, FL.
I am Olga Londono, the designer, and I've had a lifelong romance with bright colors and design. I was born in Colombia in 1973, where I studied graphic design and led my own advertising firm until 1994, when I decided to take a trip to the US planning to improve my English. However, my plans quickly changed as I fell in love with America and Carlos, the man that would later become my husband, my woodworker, and my greatest cheerleader.
We lived in Miami for two years where we started selling crafts in small shows and a Sunday market in South Beach. I started painting in glass, canvas, and wood, developing the unique and colorful tropical designs that now make my creations so easily recognizable.
During a trip celebrating my birthday, Carlos and I discovered the lively little town of Key West, a haven for artists of all kinds, and decided to move to paradise. For seven years we lived on the island, selling our art in upscale stores in the Keys and throughout Florida, and attending the nightly arts and crafts show at Mallory Square Dock.
When our two little boys turned 2 and 4, we decided that it was time to leave the party town and seek a calmer environment for the kids. We now live in Tarpon Springs, FL, where we all work together to create this new line of bright and original wooden wall art.